Pudu Robotics Announces Entry into Japanese Cleaning Market at Press Conference
SHENZHEN, China, July 28, 2023 /PRNewswire/ - Pudu Robotics, a global leader in commercial service robots, announced its official entry into the Japanese cleaning market during a press conference in Japan. The company unveiled its advanced commercial cleaning robots PUDU CC1 and PUDU SH1, aimed at addressing labor shortages and transforming the cleaning sector.
Japan, like many countries, faces a pressing labor shortage due to an intensifying aging population, with over 33% aged 60 and above. The cleaning service industry is struggling with recruitment challenges and high personnel turnover. To combat this, there is a growing demand for low-cost, high-efficiency automated cleaning robots in Japan.
PUDU's delivery robots have been well-received in the Japanese market and have established long-term partnerships with renowned brands like Skylark Group and Panasonic. Building on this success, PUDU has adapted its mature technology to create cutting-edge cleaning robots, offering superior performance, stability, and ease of use. With Japan's severe labor shortage as a backdrop, PUDU's commercial cleaning robots are poised to rapidly capture the market, elevating cleaning services intelligently and meeting the public's increasingly stringent and diverse cleaning needs.
PUDU CC1, a revolutionary 4-in-1 intelligent commercial cleaning robot, integrates sweeping, scrubbing, vacuuming, and dust mopping functions into one comprehensive solution. It provides efficient and thorough cleaning for various environments. PUDU SH1 is a specialized commercial scrubber dryer designed to tackle greasy and slippery areas, making it ideal for various industries.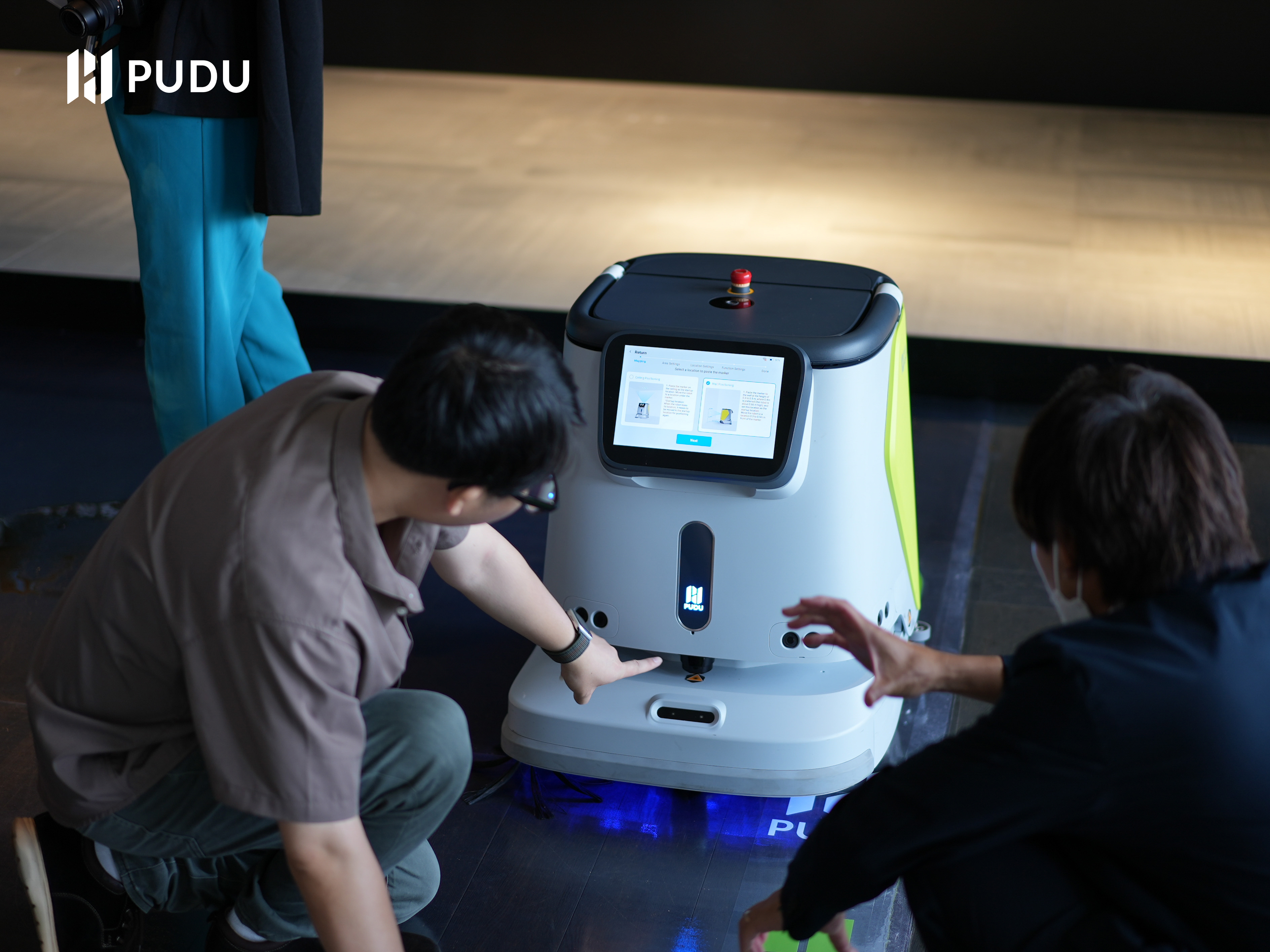 PUDU CC1
The introduction of cleaning robots significantly improves work efficiency and reduces the workload of cleaning personnel. Intelligent robots offer higher cleaning quality and consistency, delivering more professional and reliable cleaning services. Renowned Japanese medical environmental manager, Mr. Matsumoto, emphasized the importance of a symbiotic relationship between humans and robots in addressing cleaning challenges at the press conference. While robots provide convenience, they cannot replace human wisdom and judgment. Certain tasks, such as cleaning in high places or narrow crevices, remain best suited for humans, creating a complementary partnership between robots and humans.
In the era of AI, intelligent robots are emerging as a new type of terminal, forging increasingly close connections with humans. As Felix Zhang, the founder and CEO of Pudu Robotics, said at the press conference: "We aim to use robots to improve the efficiency of human production and living. The introduction of robots is not meant to replace humans or take away human jobs; instead, it aims to leverage technological advantages to better assist humans in their work and ultimately achieve a harmonious coexistence between humans and robots in society."
To learn more visit: https://www.pudurobotics.com/ and connect with us on Facebook, YouTube, Twitter, LinkedIn and Instagram.
About Pudu Robotics
Shenzhen-based and founded in 2016, Pudu Robotics is a world-leading tech-focused enterprise dedicated to the design, R&D, production and sales of commercial service robots, which aims to use robots to improve the efficiency of human production and living, Pudu Robotics has been rapidly growing in recent years to become a "leader" in the global markets with coverage of over 60 countries and regions worldwide.